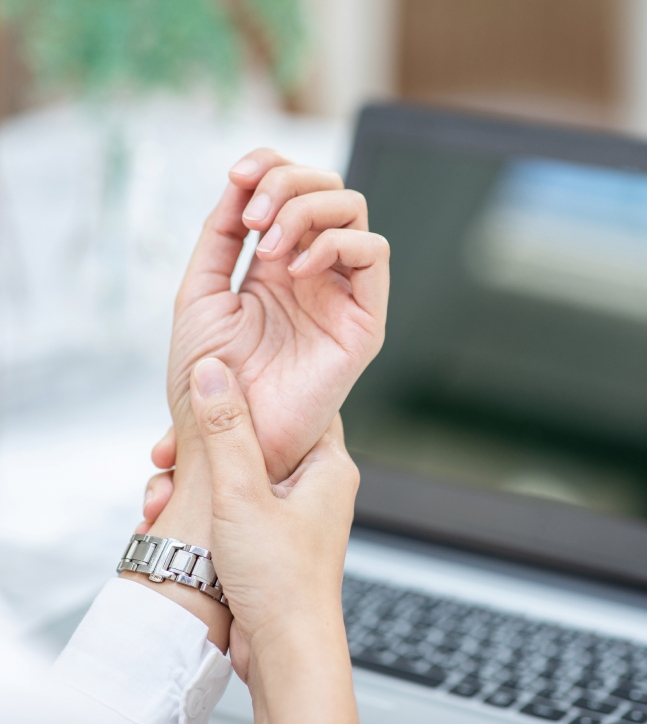 Carpal Tunnel
Do you spend a lot of time typing on your computer? Do you find that your hands or wrists sometimes feel numb, tingly, or sore? If so, you may have carpal tunnel syndrome. Carpal tunnel syndrome is a condition that can cause pain and tingle in the hands and wrists. It is caused by nerve compression in the carpal tunnel, a passageway in the wrist.
Many people who work at a computer all day risk developing carpal tunnel syndrome. The symptoms can be treated with surgery, but it is important to seek treatment early to avoid permanent damage.
A carpal tunnel chiropractor in Burnsville, Minnesota, can provide you with the treatment you need to get relief from your symptoms. Chiropractic care is a great option for treating carpal tunnel and can relieve the symptoms.
What Is Carpal Tunnel Syndrome?
Carpal tunnel syndrome (CTS) is a painful hand or wrist condition that occurs when the median nerve which runs through the "carpal tunnel" in your wrist becomes compressed.
This compression may be caused by swelling of protective fluid around the bones and tissues within the wrist, called "bursa." It is estimated that over one million people in the United States have been diagnosed with carpal tunnel syndrome.
The main symptom of CTS is a painful, tingling sensation that can feel like a burning, "pins and needles" feeling. This pain may be felt in the palm of your hand, near the thumb, or other fingers, depending on which nerve is compressed. The pain may worsen at night while you are sleeping. You may also have weakness or numbness in your hand or wrist.
Surgery to relieve pressure on the median nerve is considered when these treatments fail to provide relief. In some cases, surgery may also be considered for people who have severe disease or have lost normal sensation in their hands from carpal tunnel syndrome.
Can Chiropractic Care Treat Carpal Tunnel Syndrome?
Chiropractic care is a non-surgical form of health care that involves diagnosis, treatment, and prevention of disorders of the neuromusculoskeletal system and the effects on general health. Carpal tunnel syndrome (CTS) is one such condition that chiropractors treat with success.
Chiropractic treatment for carpal tunnel syndrome is targeted at restoring the function of the nervous system to reduce pain, restore motion in joints that may have become stiff or swollen, and promote normal nerve flow.
As with most other chiropractic treatments, adjustments are made to align the spine so that all its vertebrae are functioning again as intended. These adjustments aim to unblock any areas where nerves may be getting constricted or obstructed by bone spurs or other abnormalities found along their pathway through the body.
It is important for patients who suffer from CTS to find a qualified chiropractor with expertise in this area, as not all chiropractors are trained to treat patients with neck and back complaints. A specialist will also recommend exercises that can enhance the benefits of chiropractic treatment by increasing the flexibility of muscles that support the spine and reduce pain.
Carpal Tunnel Chiropractor in Burnsville, Minnesota
Carpal tunnel syndrome has become a fairly common problem today due to the amount of time people spend on computers and doing other activities at their office desks. This condition causes tingling sensations in the fingers, numbness and weakness in the hand, and pain throughout your wrist area. If left untreated, this disorder will cause more serious issues over time.
If you are looking for a carpal tunnel chiropractor in Burnsville, Minnesota, give us a call today. We take pride in the level of expertise that we bring to our clinic goes beyond standard chiropractic techniques. We understand how important your hand function is to your quality of life, and we know how to bring your hand function back when it is lost.
Frequently Asked Questions
Be one step ahead, call us:
For more information, book an appointment with our specialists today.
(952) 300 - 1461