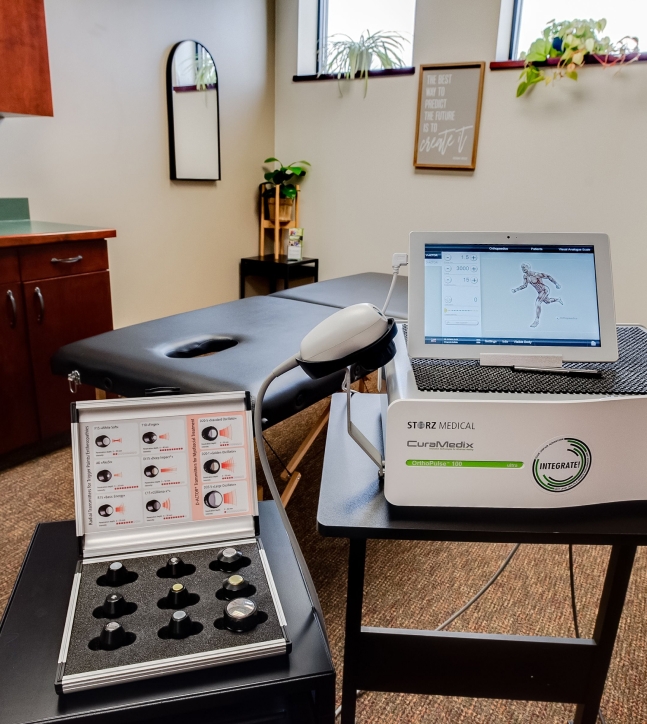 Shockwave Therapy
At Integrate Institute we are pleased to offer shockwave therapy for Burnsville, MN patients using Extracorporeal Pulse Activation Technology (EPAT®). Shockwave therapy has a proven success rate equal or greater than traditional pain relief options (including surgery) but without the risks, complications, or lengthy recovery time. Over 80% of patients treated with shockwave therapy have reported restored mobility and significant pain reduction.
What is shockwave therapy?
Shockwave therapy is a non-invasive, non-surgical treatment option to reduce chronic pain. It accelerates the body's natural healing process through acoustic pressure waves. The technology is comparable to electrical stimulation by restoring mobility and increasing pain relief through deep muscle penetration. Shockwave therapy is a multidisciplinary device used in orthopaedics, physiotherapy, sports medicine, and chiropractics.
How Does Shockwave Therapy Work?
The mechanical pressure applied during a shockwave treatment primes the cellular tissue to speed up healing. The pressure boosts circulation and metabolism, and stimulates osteoblasts that help build bones. The therapy also builds up cavitation bubble within the cells that, when released, they deposit into specific tissue that needs healing. Shockwave therapy becomes especially useful for healing lingering injuries. Because the process stimulates the body's own natural healing ability, it requires no medications or downtime.
Which Conditions Are Treatable with Shockwave Therapy?
Shockwave therapy can successfully treat several conditions such as runner's knee, plantar fasciitis, calcific tendonitis, arthritis and other chronic pain. Because the therapy penetrates deeper into the muscle than other methods it promotes faster healing. Even on non-unions and stress fractures. There's also been patients who have shown increased range of motion from frozen shoulder after having shockwave therapy.
Studies have show significant improvement from having shcokwave therapy performed. Evidence dictates success rates as follows:
91% improvement for calcific tendonitis of the shoulder
85% improvement for chronic pain
84% improvement for plantar fasciitis
76% improvement for Achilles tendinopathy
Customized Treatment
The increased efficacy of shockwave treatment performed by licensed professionals allows for specific conditions to be treated. Chiropractic practitioners have used shockwave therapy with add-on treatments to provide long-term relief to specific conditions or injuries.
This type of treatment effectively covers:
neck pain and headaches
shoulder pain
knee pain
hip pain
low back pain and sciatica
foot pain and plantar fasciitis
elbow pain (golfers and tennis elbow)
hamstring strains
sprained ankles
carpal tunnel symptoms
How Many EPAT®/Shockwave Therapy Sessions Are Needed?
Usually, Shockwave Therapy takes 3 to 5 sessions to successfully treat most conditions. However, some chronic injuries or pain can take additional sessions for full recovery. Expect 10 sessions or more for some conditions. The Shockwave Therapy lasts for about 5 minutes. However, the duration of the treatment can vary depending on the client's specific needs.
Some patients will start to feel noticeable pain relief in the treated area within 72 hours of the first session. But it's advised to complete all therapy sessions as scheduled to ensure complete healing. After your initial visit to Integrate Institute, we will assign a treatment plan to meet the requirements of your condition for best results.
Shockwave therapy isn't always the best treatment option for all patients. People with circulatory or nerve disorders, infections,bone tumors or metabolic bone conditions shouldn't have treatment. Pregnant women and anyone taking blood thinners also aren't candidates for the therapy.
Is EPAT® Therapy Effective?
Research shows that when patients follow their prescribed treatment plan that EPAT therapy is very effective. 3-5 sessions over several weeks has shown 70% improvement in function.
What are the benefits of shockwave therapy?
Non-invasive
Prevents/delays surgery
No recovery downtime
No scarring
Significantly faster healing and recovery time
No risk of infection or need for anesthesia
Over 99% patient satisfaction rate in our clinic
Shockwave Therapy in Burnsville, MN
At Integrate Institute we use Extracorporeal Pulse Activation Technology (EPAT®)which has a proven success rate that is equal to or greater than that of traditional treatment methods (including surgery) without the risks, complications, and lengthy recovery time. The procedure eliminates pain and restores full mobility, thus improving your quality of life. Over 80% of patients treated report to be pain free and/or have significant pain reduction.
Be one step ahead, call us:
For more information, book an appointment with our specialists today.
(952) 300 - 1461